What Do You Do If You See a Problem?
The best, and most frustrating, thing about a garden is that your space is always changing. About the time you get everything ideally planted, pruned and in bloom, insects move in or a neighbor's new addition creates a patch of shade unexpectedly. When you see a problem in your garden, you'll need to take action.
Shade – If your sunlight pattern changes, many of the plants you've selected may have to change along with it. Sun-loving plants won't grow in the shade and vice versa. Some shade you may be able to adjust yourself, perhaps trim away branches to allow more light through, but more commonly you'll simply have to adjust your plant selection to accommodate.
Traffic areas – People must move through your garden, and the best way to do this is to give them pathways to follow to avoid stepping on sensitive plants and grass. Use stones, gravel or even mulch to designate a particular path to follow through the yard to increase traffic flow.
Fungus – Prevent fungus by keeping your garden well drained. Add compost and if you spot fungus in your garden, try an organic fungicide first with copper or sulfur as ingredients. If those don't work, try a full chemical fungicide to treat the problem.
Insects – Some plants are natural insect fighters, but insects are almost guaranteed to show up in your garden at some point. Mix coffee grounds into the soil and you'll be able to keep many away. Chemical or organic pesticides are another good choice to beat bugs.
Thatch – The thick mat of clippings and cuttings can suffocate your lawn. Fight back by de-thatching. Use a metal rake and drag it through the thatch to gather it up and clear it out.
---
Caring for Blooming Bulbs
Your hard work from the fall and winter is paying off with the appearance of blooms from long dormant bulbs. Blossoms from bulbs appear in the spring months and the blooms last through the middle of the summer months. Enjoy the flowers in your garden now and cut them as they start to fade, or perhaps before they fade if you'd like to enjoy the flowers in a vase. In some cases, clipping flowers as they fade will encourage the plant to continue producing flowers throughout the season.
When the growing season is over, the foliage will wither and die. It's important to allow the plant to die completely without cutting or removing the foliage. This will give your bulbs the very best shot at appearing again next spring and summer for more color and beauty without the need to replant the bulbs in the fall.
---
Landscape Tip of the Month
Now is the time to test your irrigation system and make sure it is in good repair. Inspect all the valves and valve boxes checking for any lawn intrusion that may block the sprinkler heads. Slowly turn on the main valve to fill the system. Once the system has water in it, turn on each zone and check each sprinkler head in each zone is working and positioned properly. Make any adjustments needed. If you have a rain sensor, uncover it and finally, reprogram the controls. If you have a battery back up – replace it now.
Too much to do? Call Landscape Associates for a routine irrigation system check up.
---
Pest of the Month: Fleas
Fleas are tough to get rid of, but when you suspect a problem with fleas in your yard or home, you must immediately act if you're going to beat the issue. Fleas hatch in cycles, so a single treatment won't be enough. Start by spraying the yard every three weeks for a 12 week cycle with an insecticide. Be sure to also treat the inside of your home as well on a similar schedule to avoid giving these pests anywhere to hide.

Stay alert to insect activity in your yard as fleas can come back on wandering cats or squirrels, even after you've spent weeks getting rid of the pests. The earlier you treat for fleas, the fewer products you have to use, generally, which makes the treatment easier and less expensive as well.
Landscape Associates is equipped to handle fleas and other lawn pests. Call us today to schedule an appointment.
---
Now is the Time for Blooming Evergreens
Holly, one of the most famous evergreens is currently in bloom. The flowers of an evergreen shrub are small and pale yellow in most cases. They have a slight, pleasant odor and the cheerful blooms may not be large, but they are significant enough to get the attention of your local bees.
Bees love holly blossoms, and if you have two holly bushes, you may be working toward some berries in the fall and winter months. To get berries from your blooming holly bushes, you'll need both a male and female. While in bloom, the male bushes have yellow pollen on the flowers.
The female plant has only the white petals without a bit of yellowish pollen. Of course, if you have only one holly bush, you can enjoy the flowers now and you may still be able to enjoy berries if your neighbor has the male bush as bees don't discriminate on property lines.
Landscape Associates lawn maintenance crews can help prepare your shrubs and lawn for the upcoming warm weather. Call to schedule and appointment today.
---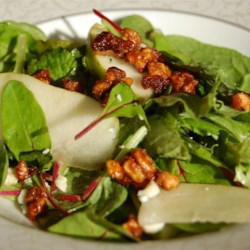 Roquefort Pear Salad
1 head leaf lettuce, torn into bite-size pieces
3 pears – peeled, cored and chopped
5 ounces Roquefort cheese, crumbled
1 avocado – peeled, pitted, and diced
1/2 cup thinly sliced green onions
1/4 cup white sugar
1/2 cup pecans
1/3 cup olive oil
3 tablespoons red wine vinegar
1 1/2 teaspoons white sugar
1 1/2 teaspoons prepared mustard
1 clove garlic, chopped
1/2 teaspoon salt
fresh ground black pepper to taste
| | |
| --- | --- |
| | In a skillet over medium heat, stir 1/4 cup of sugar together with the pecans. Continue stirring gently until sugar has melted and caramelized the pecans. Carefully transfer nuts onto waxed paper. Allow to cool, and break into pieces. |
| | For the dressing, blend oil, vinegar, 1 1/2 teaspoons sugar, mustard, chopped garlic, salt, and pepper. |
| | In a large serving bowl, layer lettuce, pears, blue cheese, avocado, and green onions. Pour dressing over salad, sprinkle with pecans, and serve. |